Yogin with chakras
from https://commons.wikimedia.org/wiki/File:Yogin_with_six_chakras,_India,_Punjab_Hills,_Kangra,_late_18th_century.jpg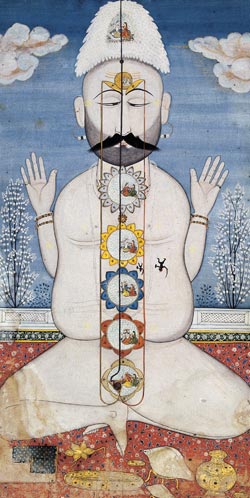 Licensing (wiki commons)
This work is in the public domain in India because its term of copyright has expired.

The Indian Copyright Act applies in India, to works first published in India.

According to The Indian Copyright Act, 1957 (Chapter V Section 25), Anonymous works, photographs, cinematographic works, sound recordings, government works, and works of corporate authorship or of international organizations enter the public domain 60 years after the date on which they were first published, counted from the beginning of the following calendar year (ie. as of 2017, works published prior to 1 January 1957 are considered public domain). Posthumous works (other than those above) enter the public domain after 60 years from publication date. Any other kind of work enters the public domain 60 years after the author's death. Text of laws, judicial opinions, and other government reports are free from copyright. Photographs created before 1958 are in the public domain 50 years after creation, as per the Copyright Act 1911.

This file may not be in the public domain outside India. The creator and year of publication are essential information and must be provided. See Wikipedia:Public domain and Wikipedia:Copyrights for more details.

---

Deutsch | English | français | हिन्दी | বাংলা | italiano | 日本語 | македонски | മലയാളം | मराठी | Nederlands | português do Brasil | தமிழ் | اردو | +/−
This media file is in the public domain in the United States. This applies to U.S. works where the copyright has expired, often because its first publication occurred prior to January 1, 1923. See this page for further explanation.

---

This image might not be in the public domain outside of the United States; this especially applies in the countries and areas that do not apply the rule of the shorter term for US works, such as Canada, Mainland China (not Hong Kong or Macao), Germany, Mexico, and Switzerland. The creator and year of publication are essential information and must be provided. See Wikipedia:Public domain and Wikipedia:Copyrights for more details.
This is a faithful photographic reproduction of a two-dimensional, public domain work of art. The work of art itself is in the public domain for the following reason: The official position taken by the Wikimedia Foundation is that "faithful reproductions of two-dimensional public domain works of art are public domain".
This photographic reproduction is therefore also considered to be in the public domain in the United States. In other jurisdictions, re-use of this content may be restricted; see Reuse of PD-Art photographs for details.
The Universal Doctrine
The Universal Path
of Spirituality
Copyright 2022
universal-path.org