Sepher Ha bahir
There is a darkness which is not darkness in itself, and that is the great light that shines forth to all and is called darkness, because it is inconceivable, because everything inconceivable is darkness for whom who can not form it, darkness, even if it were a luminous light (Sepher Ha bahir)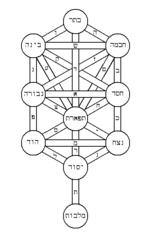 The Sefer ha-Bahir is a book of the Jewish Kabbalah, which is attributed to the Tannaite Nechonja ben ha-Qana, but sometimes Isaac of Akko and also Isaac the Blind are mentioned.
It may contain elements of the older Sefer Raza Rabba. In 1174, the Sefer ha-Bahir was published as a manuscript by a french cabbalist school. The book became the most important text after the Sohar.
Content
The book consists of five sections divided into 200 short paragraphs.
Par. 1-16 :

Comments on the first verses of the Book of Beresheth (Book of Genesis; 1. moses) and general on the creation.

Par. 17-44 : the Aleph-Beth (The Hebrew alphabet) with inspiration from the Sefer Jezirah, which connects the creation letters with the mysticism of the Torah.
Par. 45-122 :

The seven voices and the

Sefirot.
Par. 124-193 : The titles of the 10 Sefirot.
Par. 193-200 :

Conclusion of the argument and the mysteries of the soul.
Literature
Das Buch Bahir - Sefer ha-Bahir, Gershom Scholem, Aurinia Verlag, 2008, ISBN-10: 3937392157 / ISBN-13: 978-3937392158
Bahir - Übersetzung - Aryeh Kaplan, Weiser Books, 1989
Sefer Eitz Hayim - the tree of life
Weblinks
The Universal Doctrine
The Universal Path
of Spirituality
Copyright 2022
universal-path.org