Tara Cult
Tara (Sanskrit: तारा, tārā; Tib. སྒྲོལ་མ, Dölma), Ārya Tārā, or Shayama Tara, also known as Jetsun Dölma (Tibetan language: rje btsun sgrol ma) is an important goddess - yidam of Vajrayana, which had its origins in hindu tantra. In India she appears in the Brihad Nila Tantra and in the Devirahasya. Her first pictures appeared in western India.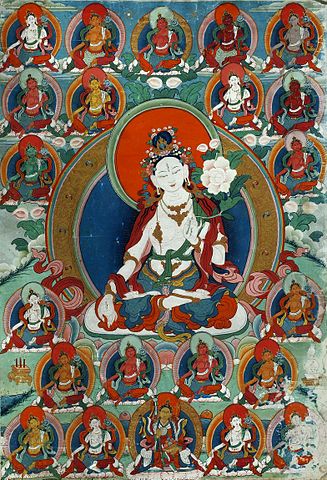 In the Tantric texts, Tara appears in forms that are very similar to the Indian goddess Kali. Her name also appears in the Kali Sahasranama.
With Shri Tara Maa she also has one of the 1000 names of the light blue Kali in the 10 Mahavidyas . The Mahavidya Ashtottara Shatanamavali contains 108 names associated with Tara, which are also known in Buddhism.
In Kalika - Purana, Tara is one of the 75 Yoginis . She appears as the goddess Kurukulla in the Bhavana Upanishad. The twin goddesses Tara and Tarini from the Brihannila Tantra are worshiped in the Taratarini Temple in Orissa as manifestations of the Adi Shakti . The Meenakshi Temple in Madurai in southern India is said to have been a Tara temple in the past. The goddess Meenakshi there has a green color, which indicates that she was the green Tara.
Hindu Ugratara Tara also belongs to the Panchakanya (pañcakanyā), a group of Hindu heroines. These are Ahalya, Draupadi, Sita or Kunti, Tara and Mandodari.
Ahalya, Tara, Mandodari and Sita come from the Ramayana, and Draupadi and Kunti from the Mahabharata. The Linga Purana mentions a Tara and her demonic son Taraka. Vishnu fought him unsuccessfully for 20,000 years.
== Mahayana ==
In the third century, Tara (Jap. Tarani Bosatsu, Chin. Tuoluo) was incorporated as a yogini in the pantheon of Mahayana. As a yogini, she also has her own Pure Land called Yulo Kopa (after Wylie: g.yu lo bkod pa'i zhing).
The Tara cult reached Tibet in the eighth century. There she was also passed down as a long-incarnated princess, who after reaching her goal became known as the liberator Tara. Taranatha provided some more stories in his Tara Golden Rosary. In Vajrayan 21 Tara - forms with their sadhanas were developed.
The Gyu De Kun Tus treats Tara on the side. In Tantric Buddhism, Tara is also considered to be a radiation of the Bodhisattva Avalokiteshvara. There it is considered the essence of compassion and is particularly called for personal difficulties. Through her being of light she is supposed to take the 8 states of fear (astabhaya) and convey security.
== Sadhana ==
The sadhana of the individual Tara can range from simple mantra meditation to complex visualization rituals of vajrayana. The Todala Tantra describes meditation in Chapter IV. During the ritual, Tara is invoked and visualized with mantras and mala. Mantras are used like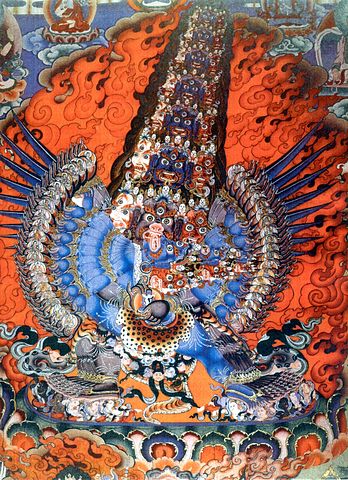 Bija : Tam
Streem - Hindu-Tara
Om tare tuttare ture soha (Standard ; green Arya-Tara)
Om tare tuttare ture mama ayur punye jnyana pushtim kuru ye soha
OM tare tuttare ture mama ayuh punya jana putrim kuruye soha
om tare tam soha - Red Tara of Tertön Apang
Tara Mahavidya : AING AUNG HRING KRING HUM PHAT
Om Hrim Strim Hum Phat - After the Devirahasya II this Tara Mantra carries above the ocean
== Literature ==
Toh 726 : The Tantra of Tārā, Source of All the Different Activities (སྒྲོལ་མ་ལས་སྣ་ཚོགས་འབྱུང་བའི་རྒྱུད། · sgrol ma las sna tshogs 'byung ba'i rgyud) - tārāviśvakarmabhavatantra
Toh 727/ 745 / 1000 : The Hundred and Eight Names of Tārā (སྒྲོལ་མའི་མཚན་བརྒྱ་རྩ་བརྒྱད་པ། · sgrol ma'i mtshan brgya rtsa brgyad pa) - tārābhaṭṭārikānāmāṣṭaśatakam
Toh 728 . The Hundred and Eight Names of Tārā (སྒྲོལ་མའི་མཚན་བརྒྱ་རྩ་བརྒྱད་པ། · sgrol ma'i mtshan brgya rtsa brgyad pa) - tāradevīnāmāṣṭaśatakam
Toh 729/ 1001 : The Incantation of Tārā (སྒྲོལ་མའི་གཟུངས། · sgrol ma'i gzungs)
Toh 730 / 1002 : The Incantation, Tārā's Own Promise (སྒྲོལ་མ་རང་གིས་དམ་བཅས་པའི་གཟུངས། · sgrol ma rang gis dam bcas pa'i gzungs) - tārāsvapratijñādhāraṇī
Toh 731 : The Sūtra of Tārā Who Protects from the Eight Fearful Things (སྒྲོལ་མ་འཇིགས་པ་བརྒྱད་ལས་སྐྱོབ་པའི་མདོ། · sgrol ma 'jigs pa brgyad las skyob pa'i mdo) - tārāṣṭaghoratāraṇīsūtra
Girish Chandra Vedantatirtha ed. 1914, Tara Tantra. Tara-Tantram, With an Introduction by A. K. Maitra.
Hindu Tantric and Śākta Literature, Teun Goudriaan, Sanjukta Gupta, S. 87
Tara in Hinduism , Bikas Kumar Bhattacharya, Eastern Book Linkers 2003, ISBN-10: 8178540215, ISBN-10: 8178540215
A detailed commentary on the sadhana of Tarayogini, written by Belo Tsewang Kunkhyab at the request of Drubchen Karpo Tulku Karma Dondup Chogyel.
Tara bhakti sudharnava, J. G. Woodroffe - Panchanana Bhattacharya
Tara-bhakti-sudharnava: With an introd. in English. Edited by Pañchanana Bhattacharya, Band 21 von Tantric texts, Autoren Narasimha Thakkur, Pañchānana Bhaṭṭāchārya, Neuauflage 1983, Verlag Bharatiya Vidya Prakashan
Divine Images - Human Visions: The Max Tanenbaum Collection of South Asian, Pratapaditya Pal, National Gallery of Canada
The Smile of Sun and Moon - a Commentary on The Praise to the Twenty-One Taras, Khenchen Palden Sherab Rinpoche ISBN 1-880975-07-6
Tara Sutras and Sadhanas - Tara Bồ Tát Pháp Kinh,by Huyền Thanh
== Weblinks ==
The Universal Doctrine
The Universal Path
of Spirituality
Copyright 2021
universal-path.org
Latest Blocked Spammers
Log file empty or logging feature disabled.