Thrikheb
from https://en.wikipedia.org/wiki/File:Thrikheb.jpg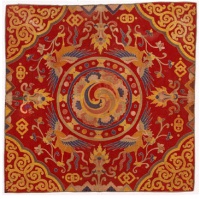 Thrikheb, throne cover, Bhutan, 19th century
In Bhutan, a mountain kingdom that lies between Tibet and north-eastern India, throne covers such as this were placed atop the temple cushions used by high lamas. Appliquéd by Bhutanese artisans with cloth imported from India, China or Tibet, the covers also served the king during his worship and rituals in the temple. Thrikhebs could be found in the homes of the Bhutanese elite as well.
This example consists of a number of appliqué designs over a red ground cloth. Most of the motifs found here are Buddhist, including the four representations of the phoenix and the lotus petals that form the center of the design.
An interesting detail in this particular appliqué is the tightly spun wool cord that forms the border of the different pieces of colored cloth. The cord creates the optical illusion of a third dimension, lending greater depth to the design of this thrikheb.
Wool broad cloth, wool cord, appliqué -- 124 cm x 123 cm
The Textile Museum 1999.9.1 -- Gift of David W. and Barbara G. Fraser
License (wiki commons

This image is in the public domain because under the Copyright law of the United States, originality of expression is necessary for copyright protection, and a mere photograph of an out-of-copyright two-dimensional work may not be protected under American copyright law. The official position of the Wikimedia Foundation is that all reproductions of public domain works should be considered to be in the public domain regardless of their country of origin (even in countries where mere labor is enough to make a reproduction eligible for protection).
The Universal Doctrine
The Universal Path
of Spirituality
Copyright 2022
universal-path.org