Pentagram de Guaita
From https://commons.wikimedia.org/wiki/File:Pentagram_with_one_point_up_%28de_Guaita%29.jpg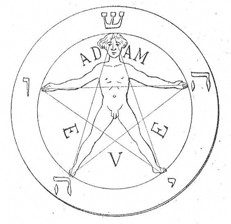 Pentagram with one point up (de Guaita)
Includes form of the "Pentagrammaton" (i.e. an incorrect attempt to derive a version of the Hebrew name of Jesus by adding the letter shin ש in the middle of the Tetragrammaton divine name yod-he-waw-he יהוה).

Date
Source
From the 1897 book "La Clef de la Magie Noire" by Stanislas de Guaita.
Author
Stanislas de Guaita
Other versions

For full image, see Image:Pentagrams from La Clef de la Magie Noire.jpg .
This is a faithful photographic reproduction of a two-dimensional, public domain work of art. The work of art itself is in the public domain for the following reason:
The Universal Doctrine
The Universal Path
of Spirituality
Copyright 2022
universal-path.org