Pegasus
from https://commons.wikimedia.org/wiki/File:Histoire-de-Guillaume-III-MG_0105.tif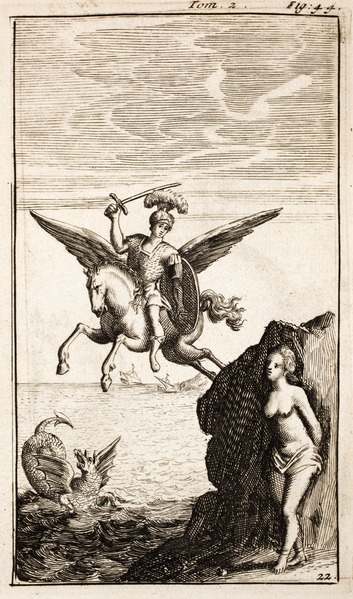 Description

English: Vol. 2. Fig. 44. Perseus riding Pegasus saves Andromeda at her rock from the seamonster Cetus..

Date
Source
Histoire de Guillaume III, roi d'Angleterre ... Prince d'Orange ... contenant les actions les plus mémorables de sa vie, et ce qui s'est passé de plus remarquable depuis sa naissance jusque'à sa mort / avec plus de 80 figures. 1703. Publisher and printer: A Amsterdam, chez Pierre Mortier (Pieter (I) Mortier Amsterdam, 1685-1711). Note: because of the many images of coins this work usually is referred to as Histoire métallique du Guillaume III. In three parts.
Author

Unknown

Permission
(Reusing this file)

This is a faithful photographic reproduction of a two-dimensional, public domain work of art. The work of art itself is in the public domain for the following reason: The official position taken by the Wikimedia Foundation is that "faithful reproductions of two-dimensional public domain works of art are public domain".
This photographic reproduction is therefore also considered to be in the public domain in the United States. In other jurisdictions, re-use of this content may be restricted; see Reuse of PD-Art photographs for details.

This is a photograph taken of an image originating from an antiquarian book that is part of the Peace Palace Library collection in the Netherlands. The image has been digitized by Bert Mellink and Lilian Mellink-Dikker from the partnership "D-Vorm VOF". Credits are appreciated.

This file is made available under the Creative Commons CC0 1.0 Universal Public Domain Dedication.
The person who associated a work with this deed has dedicated the work to the public domain by waiving all of his or her rights to the work worldwide under copyright law, including all related and neighboring rights, to the extent allowed by law. You can copy, modify, distribute and perform the work, even for commercial purposes, all without asking permission.
The Universal Doctrine
The Universal Path
of Spirituality
Copyright 2022
universal-path.org