Musaeum Hermeticum 6: Dragon
from https://commons.wikimedia.org/wiki/File:Musaeum_Hermeticum_1678_p_353_Dragon_0049.JPG
and https://archive.org/details/musaeumhermeticu00meri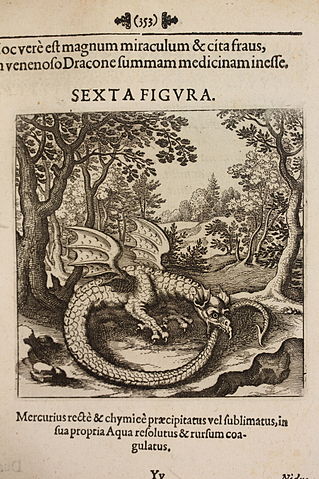 Artist

Merian, Matthaeus, 1593-1650

Author

Lambsprinck

Title

Sexta Figura

Description

English:

"Sexta Figura" (Figure Six), engraved by

Matthaeus Merian

(1593–1650). Figure 6 from

Lambsprinck

's

De Lapide Philosophico

[

On the Philosophers' Stone

] as published in the

Musaeum hermeticum, reformatum et amplificatum

. Francofurti : Apud Hermannum à Sande, 1678. In Latin.

Hoc vere est magnum miraculum & cita fraus / In venenoso Dracone summam medicinam inesse.

SEXTA FIGURA.

Mercurius recte & chymice præcipitatus vel sublimatus, in sua propria Aqua resolutus & rursum coagulatus.

That is to say, "Mercury rightly precipitated or sublimated in its own water, dissolved and again coagulated."

A serpent or dragon bites its tail, symbolizing

mercury

. The

ouroborous

is one of the oldest

alchemical symbols

. Allegorical descriptions that required decoding by the practitioner had always been part of alchemical communication. Medieval alchemy in the West added visual imagery to that long tradition.

Date
Medium
engraving
Current location
Accession number
QD25 .M87315 1678, Roy G. Neville Historical Chemical Library, Chemical Heritage Foundation.
Notes
Image downloaded with permission from the Chemical Heritage Foundation, as part of the Wikipedian in Residence initiative.
Source/Photographer
Chemical Heritage Foundation
Permission
(Reusing this file)

This is a faithful photographic reproduction of a two-dimensional, public domain work of art. The work of art itself is in the public domain for the following reason: The official position taken by the Wikimedia Foundation is that "faithful reproductions of two-dimensional public domain works of art are public domain".
This photographic reproduction is therefore also considered to be in the public domain in the United States. In other jurisdictions, re-use of this content may be restricted; see Reuse of PD-Art photographs for details.
The Universal Doctrine
The Universal Path
of Spirituality
Copyright 2022
universal-path.org