Kamadhenu anmd Uchchaisravas
from https://commons.wikimedia.org/wiki/File:Kamadhenu_Uchchaisravas.jpg
(s.a. : http://www.britishmuseum.org/research/collection_online/collection_object_details/collection_image_gallery.aspx?assetId=59776001&objectId=233442&partId=1)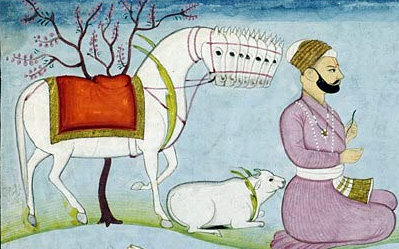 Description

English: Kamadhenu, Uchchaisravas, parijata

Date
circa 1760-65
Source
http://www.philamuseum.org/collections/permanent/76612.html?mulR=9668
Author
unknown author
Permission
(Reusing this file)

This is a faithful photographic reproduction of a two-dimensional, public domain work of art. The work of art itself is in the public domain for the following reason: The official position taken by the Wikimedia Foundation is that "faithful reproductions of two-dimensional public domain works of art are public domain".
This photographic reproduction is therefore also considered to be in the public domain in the United States. In other jurisdictions, re-use of this content may be restricted; see Reuse of PD-Art photographs for details.
The Universal Doctrine
The Universal Path
of Spirituality
Copyright 2022
universal-path.org