Herakles and Cerberus
from https://commons.wikimedia.org/wiki/File:Herakles_Kerberos_Eurystheus_Louvre_E701.jpg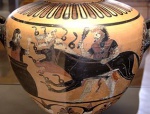 Artist

Eagle Painter

Object type
Hydria
Description

Side A: Herakles, Cerberus and Eurystheus. Side B: two eagles flying and a hare.

Date
circa 525 BC
Medium
black-figure ceramic
Dimensions
Height: 43 cm (16.9 in).
Current location
Céramiques et terres cuites, room 42: Galerie Campana III. Sully, 1st floor.
This work is part of the collections of the Louvre (Department of Greek, Etruscan, and Roman Antiquities).
Accession number
E 701
Object history
Credit line
Campana Collection, 1861
Notes
Caeretan hydria
References
Hemelrijk, Caeretan Hydriae, no. 4
Source/Photographer
User:Bibi Saint-Pol,

Own work

,
Licensing (wiki commons)
I, the copyright holder of this work, release this work into the public domain. This applies worldwide.
In some countries this may not be legally possible; if so:
I grant anyone the right to use this work for any purpose, without any conditions, unless such conditions are required by law.
The Universal Doctrine
The Universal Path
of Spirituality
Copyright 2022
universal-path.org