Greece sphinx
from https://commons.wikimedia.org/wiki/File:028MAD_Sphinx.jpg?uselang=en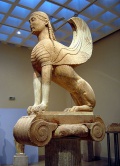 Title

Italiano: conosciuta come Sfinge dei Nassi

Description

Italiano: Sfinge votiva originariamente posta su di un'alta colonna con capitello ionico di forma appiattita presso il Tempio di Apollo a Delfi.

Date
from 570 until 560 BC
Medium
sculpture in the round / Greek insular marble
Dimensions
Height: 222 cm (87.4 in). Width: 135 cm (53.1 in).
Current location
Accession number

380, 1050

Object history
between 1861 and 1893: excavated. Place: Delphi.
References
Source/Photographer
taken by Ricardo André Frantz (User:Tetraktys), 2006
Permission
(Reusing this file)

I, the copyright holder of this work, hereby publish it under the following licenses:



This file is licensed under the Creative Commons Attribution-Share Alike 3.0 Unported license.

You are free:

to share – to copy, distribute and transmit the work
to remix – to adapt the work

Under the following conditions:

attribution – You must attribute the work in the manner specified by the author or licensor (but not in any way that suggests that they endorse you or your use of the work).
share alike – If you alter, transform, or build upon this work, you may distribute the resulting work only under the same or similar license to this one.

You may select the license of your choice.
The Universal Doctrine
The Universal Path
of Spirituality
Copyright 2022
universal-path.org