Arishvara
from https://commons.wikimedia.org/wiki/File:God_marriage_AS.jpg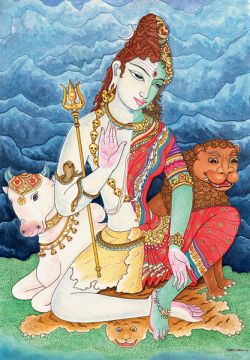 This file is licensed under the Creative Commons Attribution-Share Alike 2.5 Generic license.

Attribution: Copyrighted to Himalayan Academy Publications, Kapaa, Kauai, Hawaii.

Licensed for Wikipedia under Creative Commons and requires attribution when reproduced.

You are free:

to share – to copy, distribute and transmit the work
to remix – to adapt the work

Under the following conditions:

attribution – You must attribute the work in the manner specified by the author or licensor (but not in any way that suggests that they endorse you or your use of the work).
share alike – If you alter, transform, or build upon this work, you may distribute the resulting work only under the same or similar license to this one.
See the permission.
illustration taken from "Ten Questions people ask About Hinduism …and ten terrific answers!" (p. 11) [1]
The Universal Doctrine
The Universal Path
of Spirituality
Copyright 2022
universal-path.org