Kaliya Daman
from https://commons.wikimedia.org/wiki/File:Kaliya_Daman.png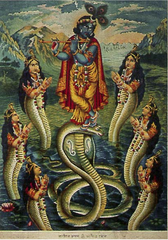 Description

English:

The story of Kalinga Mardhana / Kaliya Daman. Krishna dancing over

Kāliyā

after subduing him. The wives of Kaliya plead for mercy. Anonymous image; copyright expired in India 60 years after publication (i.e. by 1940).

Date
circa 1878–80
Source
Reprinted in book Photos of the Gods by Christopher Pinney, Reaktion Books, 2004, p. 28
Author
chromolithograph published by Chore Bagan Art Studio.
Licensing
This is a faithful photographic reproduction of a two-dimensional, public domain work of art. The work of art itself is in the public domain for the following reason: The official position taken by the Wikimedia Foundation is that "faithful reproductions of two-dimensional public domain works of art are public domain".
The Universal Doctrine
The Universal Path
of Spirituality
Copyright 2022
universal-path.org